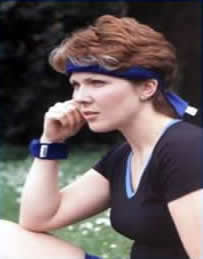 Frío® Headbands/Neckbands - One Size
These can be worn either round your neck or head to keep you cool in hot temperatures. They use the same evaporation process to keep you cool for hours after just one soak in water without the discomfort of dripping water!!
These are a must have of bikers, hikers and players of outdoor sports!
Available in a choice of three different colors: GREEN, BLACK, AND BURGUNDY

Frío® Wrist Bands - One Size
These are worn on the pressure points in your wrists and dramatically help in reducing body temperature whether taking part in sporting activities or just lying in the hot sun.

Available in a choice of five different colors: BLUE, GREEN, BLACK ,BURGUNDY AND YELLOW
Frío® Ankle Bands
Small = 9"- 12", Medium = 10"- 13" and Large = 11"- 15" Extremely helpful in reducing swollen ankles. Available in 3 different sizes, they fasten around the ankle using strong Velcro which can be easily adjusted when the swelling starts to reduce, making sure that they are comfortable at all time. They work in the same way as the FRÍO® wallets do and keep your ankles cool for hours!

Available in a choice of one color: BLUE